Our mission is to acquire, develop, own and operate renewable energy systems that are affordable, sustainable and efficient.
As pioneers and innovators of clean energy and battery storage, our company is focused on viable solutions that support decarbonization and positively impact the fight against climate change.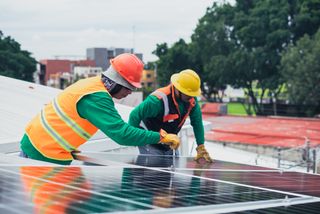 In Partnership with Fengate
42 Renewables is funded by Fengate Asset Management and together we manage Fengate Distributed Generation Partners.
Fengate is a leading alternative investment manager focused on infrastructure, private equity and real estate strategies. Founded in 1974, Fengate has offices in Toronto, Houston, and Oakville. Fengate is one of the most active real asset and growth equity investors in North America.
42 Renewables and Fengate support responsible integration of environmental, social and governance (ESG) investments for all our stakeholders.